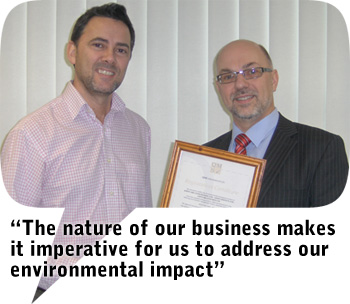 The Aspen Group has been awarded the ISO 14001 certificate for its commitment to improving the company's environmental performance.
Aspen has implemented an effective Environmental Management System (EMS) which is designed to address the balance between maintaining profitability and reducing a business's environmental impact.The EMS requires organisations to establish an environmental policy, planning and implementation and operation, checking and corrective actions, management review, and other general requirements.
Bruce Cecil, managing director of Aspen Air Conditioning and Heat Pumps divisions, explained: "The nature of our business makes it imperative for us to address our environmental impact. As a company that delivers highly efficient and renewable energy solutions for a range of customers and businesses, we feel it's important to practice what we preach.
"The ISO 14001 demonstrates our pledge to producing objectives that will improve our management programme, making sure we regularly review our processes to ensure they are the best that they can be."
The Aspen Group consists of companies dedicated to the design, installation and maintenance of air conditioning and heat pump systems for all types of commercial and residential applications. The company has recently become an accredited installer for Mitsubishi Ecodan equipment.