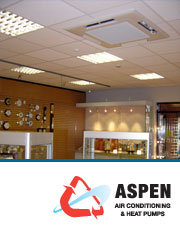 This is where Aspen Air Conditioning began, with the very first installation being in the Kings Road, London in 1986. Aspen have very good experience in Shop Air Conditioning and understand that retail projects are demanding as the installations are often on very tight programmes. From a design point of view, the equipment has to be unobtrusive - often within the ceiling to keep valuable wall and floor space clear - and robust, as the working environment can be quite demanding. Aspen Air Conditioning is used to working in this field where speed, flexibility and co-operation are vital qualities.
SHOP AIR CONDTIONING
Aspen Air Conditioning continues to have a strong presence on the high street, involved in projects from small corner shops to national chains. Past and present clients include William Hill, Barclays Bank, Lloyds TSB, Ladbrokes, Body Shop, Oasis, Alliance & Leicester, Bradford & Bingley, Tie Rack, Asda, H & M Hennes and British Bookshops.