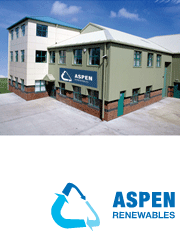 Aspen Renewables makes up the newest division of The Aspen Group of companies. Created to deal solely with the increasing interest, technological development and government incentive to embrace renewable technology including Solar Panels, Air Source Heat Pumps and Ground Source Heat Pumps.
Aspen Renewables brings together some of the latest 'renewable' technologies, previously handled by Aspen Electrical and Aspen Heat Pumps, into one centre of knowledge and expertise.
We aim to provide advice, proposals and installation of the latest energy saving solution in renewable technology that provide residential as well as commercial businesses with hot water, heating and power generation.
Aspen Renewables is MCS Accredited for Heat Pumps and Solar PV, providing customers with peace of mind and assurance that their project will be handled professionally and will qualify for any incentives that may apply (e.g. Feed-In Tariff, Renewable Heat Incentive, and Enhanced Capital Allowance).