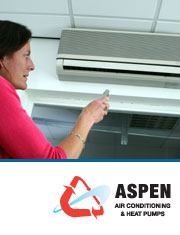 Designing and installing office air conditioning can be different in several ways to dealing with a retail application, for example, the office could be divided into a mix of open-plan and small office areas.

There may be some areas that need special attention, such as a computer room, boardroom, or a canteen. It is important that all these factors are addressed correctly to ensure the customer has a system that meets their needs.

Aspen Air Conditioning has a strong track record in successfully carrying out this type of work, whether for a small office with one occupant or for a large office block.
OFFICE AIR CONDITIONING INSTALLERS
Often installations are carried out in working offices. Aspen Air Conditioning and its staff are well practiced at co-ordinating with the client and being flexible in working to ensure the installation is carried out with the minimum of disruption.