Aspen provide all types of air conditioning units, systems and air source heat pump systems. We specialise in the design, installation and maintenance of all split system air conditioning, VRV air conditioning, ducted air con as well as ceiling and mobile units.
SPLIT SYSTEM AIR CONDITIONING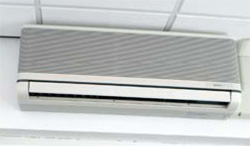 Capacity: 2 - 15 kW
Application: Retail, office and commercial of any size.
Price Range: £1500 - £5000 (installed)
In the UK most air conditioning equipment installed falls into the category of split system air conditioning, probably because it is so flexible. A split system air conditioning unit consists of an indoor unit and an outdoor unit linked together with small bore copper tubing and control wiring. A hybrid of this type is the "multi-split", where up to 5 indoor units are connected to a single outdoor unit.
Split system Air Conditioning can be used in almost any application due to the following:-
Systems can be "cooling only" or "cooling + heating" (Heat Pump).
Wide variety of indoor unit types including floor mounted, high wall, under ceiling, ceiling recessed (cassette) and concealed ducted type.
Indoor unit and outdoor unit can be up to 50m apart.
Installation is quick (1-2 days per system) and involves minimum disruption.
Flexible controls e.g. several systems can be linked together.
VRV AIR CONDITIONING SYSTEMS - VARIABLE REFRIGERANT VOLUME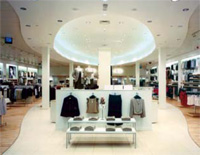 Capacity: 15 - 80 kW+
Application: Retail, office, hotel and commercial of any size.
Price Range: £10,000+ (installed)
VRV air conditioning systems are basically large multi-split systems where a number of indoor units are connected to the outdoor unit. These VRV air conditioning systems are generally used for larger applications where the alternative might be a central chilled water system or central ducted system. Against these other types of system VRV air conditioning would generally be comparable in capital cost but would quicker to install and more energy efficient to run.
The main advantages of using VRV air conditioning Systems are as follows: -
As with split systems a wide variety of indoor unit types including floor mounted, high wall, under ceiling, ceiling recessed (cassette) and concealed ducted type are available.
Indoor units and outdoor unit can be up to 100m apart.
Inverter driven compressors and sophisticated controls give increased energy efficiency.
Large open plan areas and small rooms can all be served from a single system with individual control in each room.
Systems can be cooling only, heating + cooling or heat recovery. Heat recovery systems can transfer heat from one part of a building to another (such as from South to North sides) and so dramatically reduce energy consumption, particularly during spring and autumn.
Using a modular arrangement in excess of 1000 indoor units can be installed.
Units can be controlled either individually, in groups, centrally or in any combination required.
CEILING CASSETTE AIR CONDITIONING UNITS
These units have become very popular for all types of retail, office or commercial applications due to their high degree of flexibility. A cassette unit recesses into a false ceiling leaving only a decorative panel on view. Air is drawn in through the centre of the panel into the unit where it is filtered and cooled or heated as necessary before being supplied back to the room via four edge slots.
Cassettes distribute very effectively over large areas, making them ideal for open plan shops or offices. Cassettes are also ideal for refurbishment projects or installation in occupied spaces as they are relatively quick to fit and disruption is kept to a minimum.
Cassette can be part of single split, multi-split or larger VRV systems and range from 3.5 kW to 13 kW in capacity, each.
UNDER CEILING AIR CONDITIONING UNITS
Cassette units require a false ceiling void of at least 250mm. If this is not available then under ceiling units are an option.
With a similar range and capacity to cassettes these units are available as either one way blow, for mounting against a wall, or 4 way blow, for mounting in more central positions similar to cassettes.
DUCTED AIR CONDITIONING UNITS
Where there is sufficient false ceiling void space and flexibility is important then ducted units can be used. With the unit concealed completely above the ceiling, air is re-circulated to the room through sheet metal ducting connected to ceiling grilles or diffusers.
Units can also be mounted behind false walls or under floors. This type of system is very flexible as outlet grilles can be moved reasonably easily to suit new room layouts.
Systems can also be tailor made with addition of items such as sound attenuators and extra filtration. Fresh air can easily be introduced into a ducted system.
HIGH WALL AIR CONDITIONING UNITS
These units are suitable for small to medium sized rooms or where equipment can not be mounted on the floor or ceiling. Capacities range from 2 kW to 10 kW.
These units come as part of a single split system (one indoor to one outdoor) or part of a multi-split system (several indoor to one outdoor). Modern units are slim, neat and quiet in operation.
Units are usually operated using an infrared controller. The system can be supplied as 'cooling only' or 'heat pump' (cooling or heating).
LOW WALL AND FLOOR AIR CONDITIONING UNITS
These would be used for aesthetic or space availability reasons where high wall units could not be used or are not the preferred option.
These units are similar in appearance to slim line storage heaters and can be installed to replace them, so occupying the same space in the room but providing cooling as well as heating (heat pump option only). Operation is usually by unit mounted controller or infrared controller.
CENTRAL CHILLED WATER AIR CONDITIONING SYSTEMS
Applications: Large office buildings, hospitals, hotels, factories etc.
Price Range: £50,000 - £1M
Water chillers are usually electrically driven. However, where electrical supply is limited absorption chillers can be powered with gas, or where there is a readily available heat source such as steam or waste heat from CHP plant (Combined Heat and Power) then heat can be used to drive the absorption process.
Chilled water pipe work circuits from the chiller would connect to finned coils in air handling units and/or fan-coil units around the building being served. Chilled water systems can be quite flexible as the pipe work can be altered and extended to suit new room layouts and requirements (subject to capacity limits of course). The chilled water can be used for a variety of uses in one building, such as plastic injection machine cooling and office cooling.
CENTRAL DUCTED AIR CON SYSTEMS
Applications: Medium to large office buildings, hospitals, hotels, factories etc.
Price Range: £10,000 - £1M
Based around central air handling plant with sheet-metal ductwork systems running through the building. The ducts are usually concealed within false ceiling voids and service shafts and serve individual areas via ceiling or wall mounted grilles.
These systems take up a lot of space compared to DX (Direct Expansion) systems such as splits and VRV, and chilled water systems. As the air is usually heated or cooled centrally individual areas can not be separately controlled. This can be addressed by using variable air volumes (VAV) or terminal cooling or heating units, though the equipment and controls required are sophisticated and expensive.
CLOSE CONTROL AIR CONDITIONING SYSTEMS
Applications: Clean Rooms, operating theatres, pharmaceutical laboratories etc.
Price Range: £20,000 - £1M
This is a specialist area demanding expert design and installation skills. Unlike the equipment described previously, which is concerned primarily with providing comfortable conditions for occupants, here the equipment is required to provide closer control of all room conditions, including temperature, humidity and filtration. Heating, cooling, humidification, dehumidification, airflow and filtration quality functions all have to be monitored and controlled.
To achieve control of these parameters the systems are generally of the ducted type, with cooling provided by either condensing units or water chillers connected to finned coils fitted in the air-handling unit.
MOBILE AIR-CONDITIONING SYSTEMS
Applications: Small Office, Home use etc.
Price Range: £200 - £500
These are generally used for temporary cooling. Typically a mobile unit would be mounted on castors and would have an exhaust hose or small condenser unit on flexible lines which would have to be placed through an open window or door.
In order to be truly portable these units have to able to plug into a standard 13-amp socket outlet. This effectively limits the capacity of the unit and most provide about 3 kW of cooling suitable only for a small room or office.