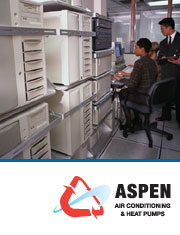 IT Suites, server and comms rooms are now a feature of many modern premises. Aspen Air Conditioning understands that the environment needs to be kept at just the right temperature to enable the IT equipment to operate correctly and not overheat. Equally important is the comfort of the occupants who work within these areas.
Aspen can provide the best quality and cost effective brands for your IT suite air conditioning and server room air conditioning. Our design, installation, maintenance and repair services will ensure that your servers are kept at the right temperature throughout the year.

Aspen Air Conditioning has completed many installations for businesses, schools, colleges, local authorities and NHS Trusts throughout the UK.