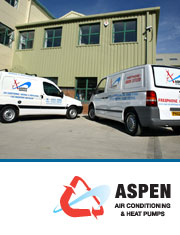 In 1986 Bruce Cecil and Bernard Leach formed Aspen Air Conditioning in Hailsham, East Sussex. The business grew rapidly on the back of the retail boom and expanded into office and industrial air conditioning.
Aspen Service was started in 1989, providing customers with after sales service and maintenance.
The newest member of the Aspen family is Aspen Renewables, which was created to service the work we do in the form of solar pv and air source heat pumps as well as ground source heat pumps.
In the early 1990s Aspen Pumps and BBJ were formed – involved in the manufacture air conditioning ancillary products such as condensate pumps and pipe supports, including Big Foot. Selling primarily to wholesalers Aspen Pumps is the market leader in the UK and also exports all over the world, and has won the Queens Award for International Trade. (Aspen Pumps/BBJ and Big Foot now trade as a separate group).
Across the group Aspen is committed to employing well-trained and motivated staff providing an efficient and competitive service to its customers.
With a product range varying from fixed air conditioning systems, split system air conditioning, VRV air conditioning, fitted air duct systems, air conditioning units, mobile air conditioning systems and close control air conditioning systems for specialist use. Aspen air conditioning can meet your requirements.
As part of the Aspen air conditioning service we provide a comprehensive and money saving preventative air conditioning maintenance contract. Our contracts are bespoke to your needs allowing for up to 4 visits per year for inspections and to clean filters and heat exchangers as well as fault finding and any repairs that may be necessary.
AIR CONDITIONING REGULATIONS
Aspen always strive to meet the standards and requirements that the industry creates which is why we are dedicated to achieve and push the boundaries of air conditioning development and design. We have been awarded certificates for improving the environmental performance of the company and continue to promote and assist in helping individuals and companies reduce CO2 emissions as well as backing government incentives in renewable fuel and cash back schemes for clean energy providers.