Aspen AC have been providing air conditioning in Brighton, Hastings, East Sussex and London continuously since carrying out their first project, in the Kings Road in 1986
ASPEN AIR CONDITIONING & HEAT PUMPS
The Aspen Group consists of companies provide design, installation, preventative maintenance and repair of air conditioning and heat pump systems for all types of commercial and residential applications, from small office air conditioning or bedroom to a large retail store or office block. In-house air conditioning design, installation and maintenance are also offered. From initial FREE site survey or customer brief, Aspen Air Conditioning will carry out a professional design and put forward competitively priced proposals. Aspen Air Conditioning's own trained and experienced staff will carry out the installation quickly and efficiently with minimum disruption. Aspen Air Conditioning are approved installers for all major equipment brands. For peace of mind Aspen Air Conditioning offer up to 5 years warranty on certain brands of equipment (subject to take up of an Air Conditioning Maintenance Contract).
Air Conditioning Kent • Air Conditioning Sussex
Air Conditioning London • Air Conditioning Brighton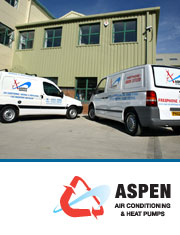 During the winter months, using smart and efficient heat pumps to heat your home can be a big money saver. Many of us turn on the central heating as soon as it starts cooling down and leave it on until the temperature rises in March/April.
By using heat pumps or air conditioning heating systems you can quickly heat your home. The benefits of a heat pump are that it can supply more than 3kW of heat for every 1kW of electricity it consumes, is a space saving alternative to central heating as well as providing you with an efficient cooling system in the warmer months.
Aspen can now provide air source heat pumps that allow you to heat your home or business premises much more efficiently than with traditional heating equipment.
With a product range varying from fixed air conditioning systems, split system air conditioning, VRV air conditioning, fitted air duct systems, air conditioning units, mobile air conditioning systems and close control air conditioning systems for specialist use. Aspen air conditioning can meet your requirements.
As part of the Aspen air conditioning service we provide a comprehensive and money saving preventative air conditioning maintenance contract. Our contracts are bespoke to your needs allowing for up to 4 visits per year for inspections and to clean filters and heat exchangers as well as fault finding and any repairs that may be necessary.
AIR CONDITIONING REGULATIONS
Aspen always strive to meet the standards and requirements that the industry creates which is why we are dedicated to achieve and push the boundaries of air conditioning development and design. We have been awarded certificates for improving the environmental performance of the company and continue to promote and assist in helping individuals and companies reduce CO2 emissions as well as backing government incentives in renewable fuel and cash back schemes for clean energy providers.